Welcome to our Tutorials blog post series, where we provide information to help deepen your understanding of what you're paying for. Today, we'll be looking at a key element of printed items, Paper Stock.
Some key elements we will be reviewing are what different pt's mean, the difference between various coats and what they are, and the difference between cover stock and paper stock.
Pt stands for Point (or Paper Thickness)
Let's begin with what 'pt' means, and what the difference in the number before it means. If you're wondering where and when pt applies, you may see pt appear within the title for our products that are cover stock or card stock. This is because the thickness of cover or card stocks are measured in PT (point), and text or thin papers are measured in LB (pound). Now, let's get into what pt is.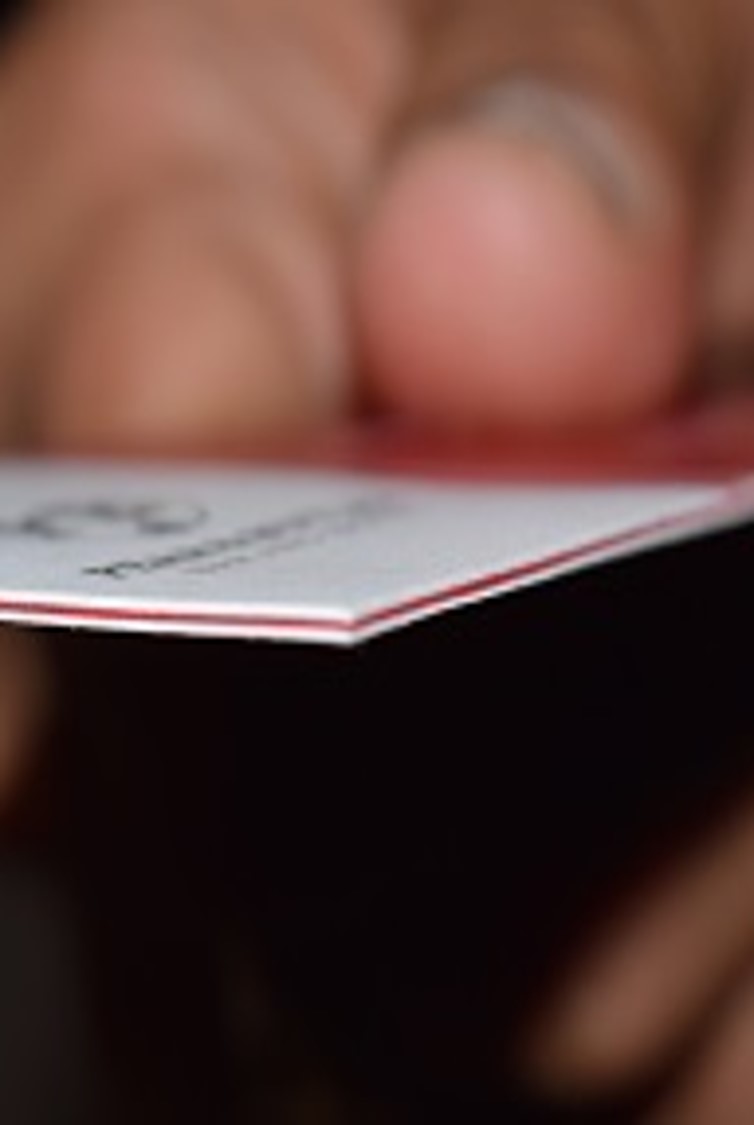 Pt stands for point. Point (pt) is commonly used to measure the thickness of stocks in North America. The higher the point measurement, the thicker the stock (Other uses of pt are as the standard unit of measurement for line weight (used to specify the finest detail possible for an output) and font size (uniquely, the pt size of a font is based on the height of the font, and not the thickness)). For all intents and purposes, you can read pt on our site to mean 'paper thickness'. The higher the pt (ex/ 14pt vs 16pt, 13pt vs 38pt) the thicker and heavier the print product. Pt's vary for different products but also for different versions of the same product (for example, see our business cards). For example (gsm = Grams per Square):
3 to 6 pt = 60 gsm to 120 gsm – Typical for copy papers and less durable flyers.
9 pt. to 14 pt = 200 gsm and 300 gsm – Used for posters and more durable marketing pieces.
14 pt+ = 310 gsm+ – Often used for the pointing of tags, header cards, and heavy covers.
An important thing to note is that during the coating process, the paper is smoothed, which compresses the fibers in the paper together and makes them significantly denser. This can make coated paper that's the same weight as uncoated paper feel thinner.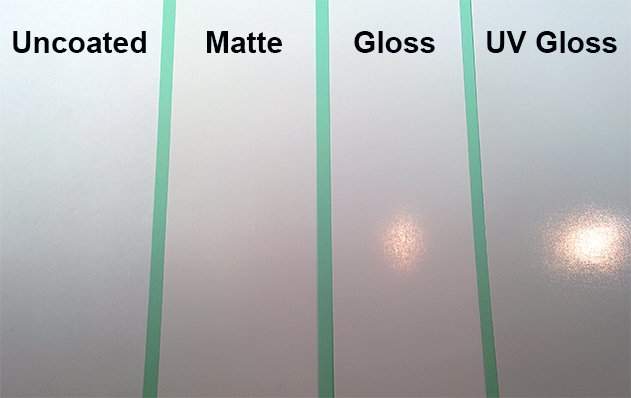 Coating
Now that we've discussed the meaning of pt, let's take a look at the difference between various coats and what they are. First, before we dive into different coats, let's star with the basics – print products can be coated or uncoated. Each has their advantages and disadvantages. Uncoated stocks will typically absorb ink, producing a softer and more muted look, great for those looking for an earthier feel for their print product (however, a drawback is that sharpness in the detail can be lost). Coated stocks are uncoated papers with added coating, great for making details pop, and they tend to be more durable and mark less when handled than their uncoated counterparts.
Alright, now that that's out of the way, let's see what finishes we have available. Our finishes include matte, UV, writable, AQ, linen, enviro (uncoated), silk, laminated, and many combinations within the list.
Our Matte finish is smooth and soft to the touch, a very cost-effective finishing option, does not reflect light nor is it as 'shiny' as some of the other finishes, and images are 'softer' because the colours have a greater tonal range.
The UV finish is high gloss – well of course, as it is our shiniest finish and also known as 'UV Glossy', which leads colours to appear vibrant and saturated.
The AQ finish is a water-based coating with a semi-gloss look, a compromise between glossy and matte. It also offers a level of protection from dirt and fingerprints due to its aqueous finish, which gets applied post printing.
Writable finishes are great for individual customization, such as a business card that you want people to be able to write on the back of, or roll labels that you need to be able to identify products with. Our writable options include UV glossy, to make your design shine, and AQ, to protect it against condensation and water damage.
Linen has the look and feel of fabric linen with a raised crosshatch pattern and is made with fibers from the flax plant. This finish creates a stronger and crisper paper suitable for restaurant menus, stationery, and more. The strength of linen paper is why the United States and other governments use a linen and cotton blend paper for currency printing.
Our enviro (uncoated) print products are made from 100% recycled paper for clients looking for eco-friendly solutions – this option is the ideal environmental choice for those looking to reduce their ecological footprint and maintain their green thumb.
We have varying lamination options, including silk and gloss. Silk Lamination has a subtle and elegant tone, a silky feel, and its colours that appear softer due to the lamination. Gloss Lamination creates a protective layer & adds shine, which is applied after printing to ensure quality and satisfaction.
This concludes our Paper Stock blog post, part of our Tutorials blog post series. For further information on our products, visit our blog, or give us a shout. We hope to hear from you soon!