Welcome to our About Amoona blog post series, where we discuss information about our company and our products. Today, we'll be looking at one of our key service offerings, our Printing Services.
We offer fully customizable design for a more premium package, as well as free templates that we can implement for those looking for an option in the lower price range. We will design, print, and ship marketing material for you that ranges from business cards to pull-up posters, and everything else in between. Our high-quality product prices are competitive at all quantities, and our high-volume orders offer a better deal than many of our competitors.
If you are a business looking to make large and/or consistent print orders, we recommend shopping with us, as the price breaks in our printing are structured as to make the higher quantity orders the better value orders.
An example of this can be seen below, as the price per unit drops as the overall quantity increases: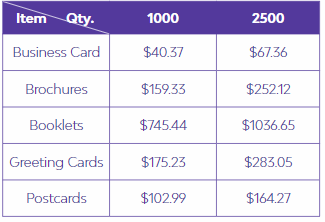 See more pricing and ordering options below. We also offer Graphic Design for all of these options as well. For more information, check out our Graphic Design blog.
As it pertains to the ordering process itself, we developed a guide to help you if you happen to have difficulties in this process, and a graphic to simplify your options in this process.
Check out our graphic below, and our Online Ordering Help Guide right here.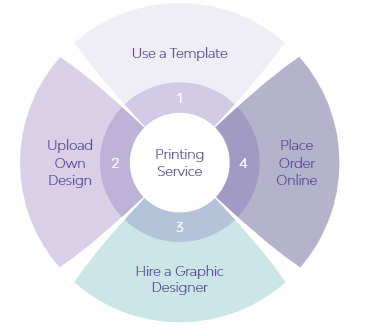 When you visit any one of our product pages, you will see a few things, one of which is an instruction box if you choose the option of a template or your own design file: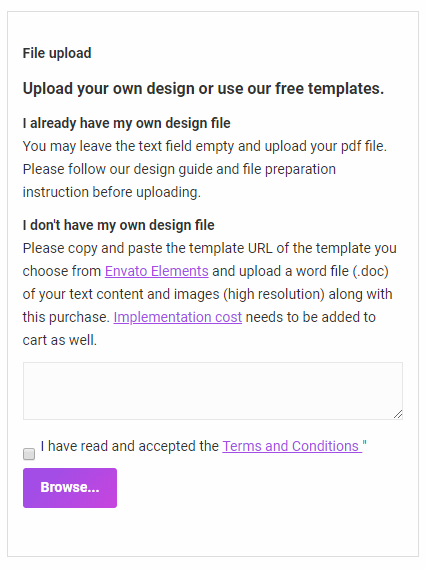 Follow the instructions in the box to proceed to the next step. Before you do however, we ask that you take a look at our Terms & Conditions, which contain our Policies, so that you know what you're agreeing to (don't worry, there's no hidden fees or tricks here: just specifics regarding the printing and shipping processes).
If you want us to create a new design, indicate that in the text field. If you have images and text content that you want us to include in the design, please congregate that into a Microsoft Word document and upload it using the 'Browse' button, while pasting the URL of the template you wish for us to model the design on in the textbox. If you have your own design, please use the 'Browse' button to upload a PDF file that contains your design (before uploading, take a look at our Design Guide and File Preparation Guide, located below and on the left-hand side of every product page).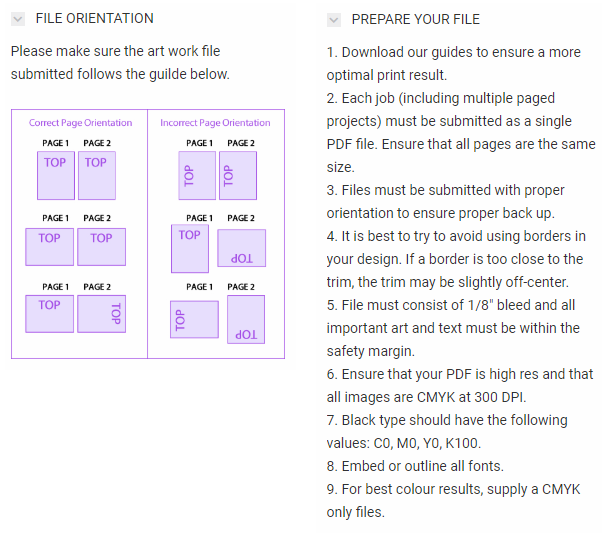 Another thing to note on the product pages is the description, where you can find further information on the product and the design specifications, as well as leaving the product a review.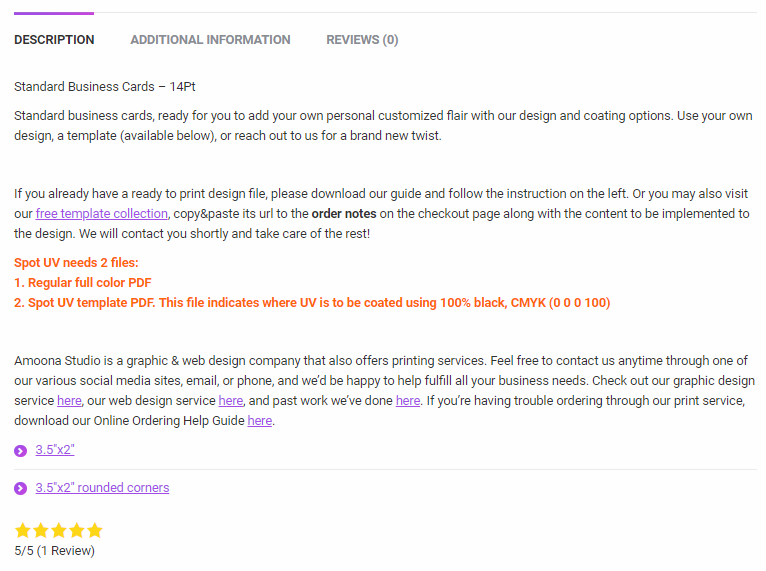 If none of our quantity or sizing options meets your desires or needs, please fill out the Special Orders form and we'd be happy to assist you. This form is located on the left-hand side and within the footer of every product page.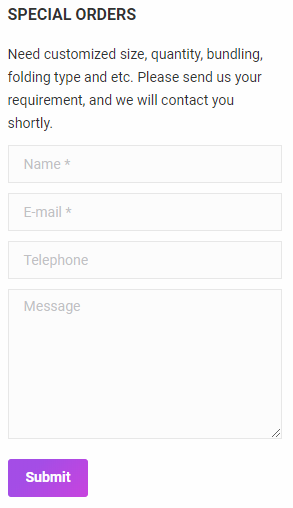 As you can see, not only do we offer design and printing for a wide variety of options, we also ship and deliver, from our doorstep, to yours.
If you do not have your own design and don't like any of the templates you find, we suggest utilizing our Graphic Design service when printing. Some benefits of utilizing our graphic design service include a 10% discount on our printing service, and, if you happen to be dissatisfied with our design, no extra charges on revisions to the final product.
We believe that our Printing services offer high-quality products at reasonable price points, especially on larger orders. If you need marketing material, from business cards to banners, flyers to yard signs, we can meet your needs. If this sounds like something that would benefit you and your business, contact us by filling out the contact form on our home page, emailing us at [email protected], finding us on social media (@amoonastudio on Instagram, Facebook, Twitter, or @amoonastudioinc LinkedIn), or by giving us a call at our primary number (226) 336-9933.
This concludes our Printing Services blog post, part of our About Amoona blog post series. For further information on our Printing services, visit our Printing webpage, or give us a shout. We hope to hear from you soon!